Searching for a PR reporting template? In this guide, we are going to break down the core components of effective PR reporting and offer a simple public relations report template. While many factors will ultimately determine the overall impact of a PR report, it's important not to lose sight of the basics. So, let's dive straight in!
PR Reporting Templates – Why Do They Matter?
PR reports can make or break client relationships. The best PRs in the business are master storytellers with a talent for crafting compelling narratives. Experienced professionals should also know how to present themselves through a meticulously crafted PR report. While PRs excel at doing PR for clients, many often struggle at 'PRing' themselves through compelling reporting.
With access to the right PR report template, communicating accomplishments to clients and executives will become far easier. An effective public relations report should help nurture the client relationship. Let's explore the core components of PR reporting.
The Core Components Of Effective PR Reporting
Start Off Strong!
It's important to hit the ground running and front-load the report with the most valuable stuff. It can be a mistake to assume that busy clients or executives will have the patience to sit down and read through the entire report. We believe in showcasing the best coverage, metrics and activity at the beginning of the report (according to our data, clients typically have 1-2 minutes of attention to read PR reports).
Provide Context
It's often surprising to see how few reports explain the relevance of specific results. The key is to circle back to why the coverage is important, and how it fits into the bigger picture. If clients or execs do not have a strong understanding of PR, it's critical to continually provide context and reinforce objectives.
Add context to key points in a PR report by considering the following questions:
How does this piece of coverage show that we are achieving our objectives?
How does this metric demonstrate that we are making meaningful progress?
How does this activity show that we are providing value for money?
Include Supporting Activity
We all know there's far more to modern public relations than coverage – and it's essential that this is communicated in the report. If there are various projects or strategies in the pipeline, mention these in the report. If there is little coverage for the month, talk about what the team is in the process of planning and how this fits into the overall strategy.
Focus On The Visuals
A strong visual presentation is about conveying a clear message to clients in an enticing way. If a PR agency is firmly committed to delivering results, a report with a smart design will reflect this. It's best to avoid low-quality screenshots of online coverage and dense copy. Inconsistent formatting in the report will make it challenging for the client to navigate through the document.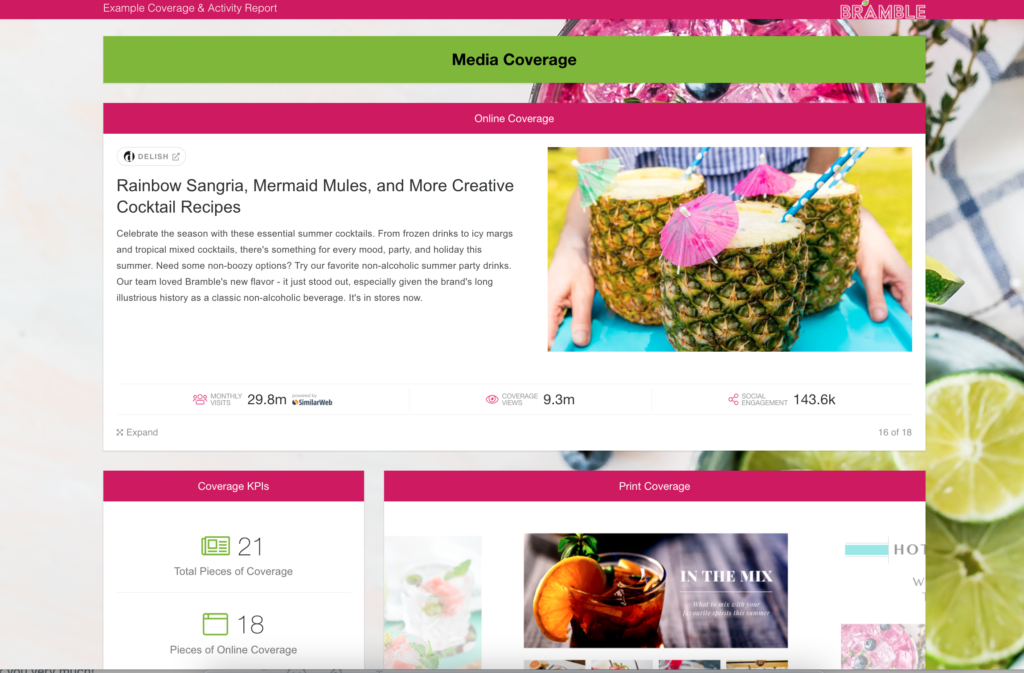 Measure What Matters
While it's tempting to include as many metrics as possible, this may overwhelm the reader and lessen the impact of the metrics that matter. When dealing with readers who are often short on time, it's important to focus on only the most relevant KPIs. Dedicating pages and pages to inconsequential data provides little value to the reader.
Provide A Table Of Contents
Good PR reports are easy to navigate and structured logically, and a table of contents can be a helpful feature. If the client cannot dedicate enough time to read the report from front to back, they will benefit from a table of contents in order to identify the most relevant information.
Set The Scene For The Next Month
Taking a forward-looking approach makes it easy to explain how everything is building towards hitting broader objectives. In other words, clients and execs need to know what is on the horizon and how the PR efforts are pushing them closer to key milestones. When this is detailed in the report, it can illustrate the month-to-month compounding effects of the PR strategy.
Use The Right Format
PDF or Word documents were not built to showcase the work of modern PR professionals in an engaging way. For PRs to prove their worth to clients and executives, they must leverage digital tools to showcase their work. This is where Releasd comes in – as a next-generation PR activity reporting tool.
Releasd showcases modern PR activities in a clear, engaging format that busy clients and executives can quickly absorb.
PR Report Template To Hit The Ground Running
Regardless of the format being used, we recommend adopting the following simple structure for a typical monthly PR report:

1. Introduction/Contents
Set the scene by outlining the work that has been done, with a handful of bullet-pointed highlights. It's surprising how many PRs skip this step!

2. Key Metrics
Include a handful of clear KPIs, understandable not only to the direct client but to their own internal stakeholders too.

3. Coverage Highlights
If lots of coverage has been generated, split out the most impactful articles and showcase them upfront. The rest can come later.

4. Social Wins
Include key social posts. This is where context can be useful, as some execs have a limited understanding of how social and PR fit together.

5. Key Quotes
Even with the best reporting template available, it's unlikely that recipients will thoroughly read every piece of coverage. After spotting a key quote buried within an article, tease it out and showcase it within the main report.

6. Supporting Content
Press releases, reports, white papers, and other supporting collateral represent valuable work done behind the scenes. Mentioning this helps to justify budgets, and can demystify the day-to-day work of PRs.

7. Learnings and Next Steps
Provide a quick heads up on what's coming next. This maintains the feeling of momentum and can also help align all involved parties.
Public Relations Report Template – Closing Thoughts
Having access to a robust public relations report template has the potential to transform client / internal relationships.
Releasd includes over 20 report layouts based on best practice. Book a 15-minute demo for a free guided tour of the tool.